Spiritual Formation is one of the six values of Northeastern Seminary. We affirm that the indispensable foundation for Christian ministry is a vital relationship with God through Christ, and so we seek to provide a nurturing community in which genuine Christian faith can deepen and thrive.
Each week, students are encouraged to take a break from their studies and participate in spiritual formation week. On this page are resources for that week and spiritual formation guides throughout one's seminary journey.
What is it and why join a group?
Spiritual Formation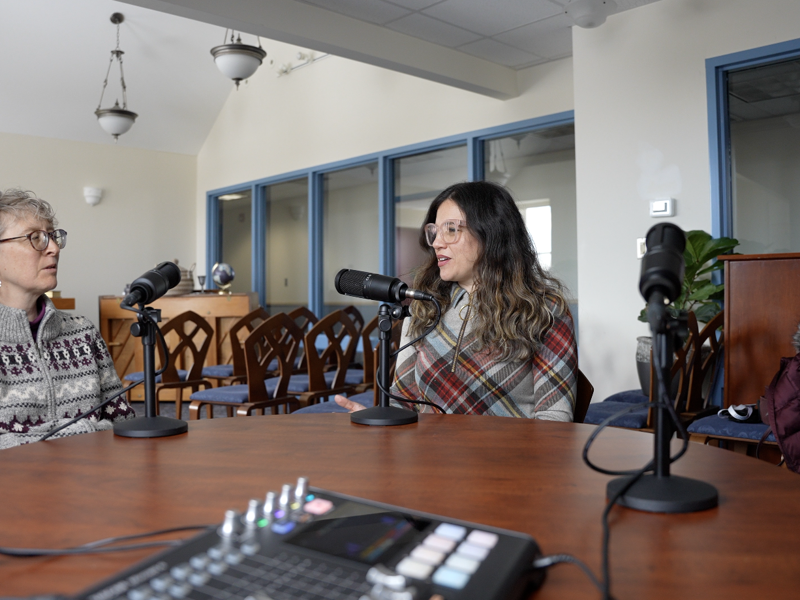 Have you thought about joining an online spiritual formation group? We highly encourage you to do so! 
Spiritual formation is the process of being conformed into the image of Christ (Romans 8:29). It is both an individual and communal process. We believe these groups are important because we are conformed into the image of Christ in a healthy community, not in isolation alone.
Conversations on Spiritual Formation
The following is a set of video recordings from people in the wider Northeastern Seminary community (alumni, administrators, trustees, etc.) who offer encouragement for you as you seek to keep your relationship with God central during the very full season of seminary study.
Professor of Spiritual Formation Marlena Graves on Flourishing
Professor Marlena Graves is an alum of Northeastern Seminary and the newly hired professor of Spiritual Formation. She shares with us her wisdom of how to grow and flourish in Christ.
Dr. Malene Collins-Blair
Dr. Collins-Blair is the new Assistant Chief Academic Officer and Assistant Vice President for Academic Affairs. Dr. Collins-Blair has extensive administrative and academic leadership experience in the areas of online courses, degree programs and initiatives, and strategic and operational planning, previously serving as the Dean of Houghton College Online.  
She shares with us her thoughts on where she finds herself in her walk with God.
Rev. Gerald Coleman on keeping your spiritual life alive
An alumn of Northeastern Seminary, Reverend Gerald Coleman (affectionately known as "Pastor G") serves as the Campus Pastor at Roberts Wesleyan University as well as the Director of the Office of Spiritual Life. Additionally, he serves as the Senior Pastor of Mount Carmel Church in Chicago, IL.
In this video, Pastor G. shares from his own experience what it means to keep your spiritual life alive while in seminary, especially in the context of being assigned a lot of readings that are not ones you would normally pick! He also shares the importance of allowing seminary to form you not only in terms of what you know, but who you are becoming.
Janet Balajthy on three seminal spiritual practices she uses
Janet Balajthy serves as a trustee of Northeastern Seminary and Roberts Wesleyan University, and has also served as an adjunct professor in spiritual direction classes. Having retired from decades of leadership in InterVarsity Christian Fellowship, Janet currently serves as a spiritual director (especially for women in leadership). In this video, Janet shares three seminal spiritual practices that have supported her in keeping her life in God central, even in the midst of a very demanding ministry.
Dr. Deana Porterfield on seeking ministry within your gifts
Dr. Deana Porterfield encourages students to persevere in their education (even when it doesn't come easily), sharing her own challenges in college and graduate studies. She encourages you to lean into knowing who you are and seeking a ministry within your giftings, remembering that God has ministry for each of us. She also shares her own set of regular practices that keep her resourced to be the leader God has called her to be in this season.
Bishop Karen Horace on an authentic relationship with Jesus
An alum of Northeastern Seminary, Bishop Horace pastors at Harvest Time Sanctuary in Rochester, New York. 
In this video, she shares her heart for ministry in the city – connecting with people outside the four walls of the church and introducing them to an authentic relationship with Jesus. She also shares some of her own practices for keeping Jesus central in her life, and some of her own experiences for getting through college and seminary with a special commitment she felt called to make.
Dr. Wayne McCown on finding spiritual nourishing
Dr. Wayne McCown was the founding Dean of Northeastern Seminary. He currently serves on the Board of Trustees for Roberts Wesleyan University and Northeastern Seminary. 
Now in his 80s, Dr. McCown shares in this video not only the many administrative and pastoral ministries in which he is still heavily involved, but also some tender ministry to family members and friends that are part of his life in this season. Towards the end of the recording, he shares what he finds spiritually nourishing – note his call to very "simple" practices in the midst of his very active life. 
Alum Kellie Barbato on persevering when challenges come our way
Kellie Barbato is an alum of Northeastern Seminary with an MA in Transformational Leadership. She serves as the Director of Library Services at Golisano Library. Kellie's ministry settings have been in the context of Higher Education, serving as a librarian at several different schools. She encourages us to persevere when life (and studies) are challenging and to receive encouragement from others along the way.
Spiritual Formation Exercises
Northeastern Seminary's Spiritual Formation week takes place each semester. Dr. Rebecca Letterman has offered resources and ideas for how students can spend the week. This page will act as a resource center to house the exercises, videos, and interviews around the topic. 
Praying in Color
Dr. Lettermans' video on prayer will give you some ideas on how to linger in prayer in a new way. You'll need about 20 minutes — and a notebook or paper and some writing utensils — to explore this way of praying. Watch Dr. Letterman's video, and then give it a try!
Engagement and Rest
Many seminary students (and other Christians) struggle with having extremely full (over-full) lives, and long for "work-life balance." This video provides some biblical perspectives on the ways engagement with God in ministry and engagement with God in rest can support each other. It also invites you to check in with your "visceral responses" to rest and engagement, so that you can begin to explore the longings of your own heart around these topics.